92 Mustang LX Coupe
Purchased new in late 1992 at Tommy Vaughn Ford in Houston Texas for $21,000, scroll down to see the window stickers!!! Twilight Blue in color and of course a 5.0 (who would get a mustang without a 5.0??). Tommy Vaughn Ford had installed the Certified GT-40 package from Ford Motorsport which included, ported and polished GT-40 heads, GT-40 upper and lower intakes, 24lb per hour injectors, 1.6 roller rockers, bigger throttle body a 65mm, stock was 58mm, rear disk brake kit unheard of in 1992, 3.27 gears out back, and to top it off an A-trim Vortech supercharger with 6 lbs of boost that motor is sitting in my shed all wrapped up, This car was run the paper (NO INTERNET IN 1992) for $21000 because they couldn't sell it for the $24000 they were asking, so I picked it up and yes I paid $21000 for a Mustang, that would stay up with Mike's ZR1 though 4th gear and 130, damn ZR1 are long legged, unfortunately Mike was killed in the same car with in a year of me getting this stang, he was the influence that pushed me getting to it, we scared the hell out of the sales guy. Any now the original 302 with GT40 heads is in my shed wrapped up and covered, the car now has a 302 punched 30 over bringing it to a 306, 10 to 1 compression, Eagle rods, TFS Street Heat Heads ported and polished, 90mm Lightning MAF, 80lb injectors, Mac off road exhaust, MAC long tube 1 5/8 headers,Crane 2030, Tremec 3550, 3.55 Auburn gears and axles, Cartech Fuel System and to top it off a VORTECH S-Trim (18 lbs of boost). Pure sleeper except the sound of the blower. Click on the second picture below to hear it at idle. And this is without any computer tuning what so ever, hell when this was recorded there was no such thing as computer tuning. Moates QuarterHorse tuner as well, much more drivable nowadays than back in the 90's.
I've run 12.26 @ 126mph!!! On radial street tires, which were smoked in first gear and second!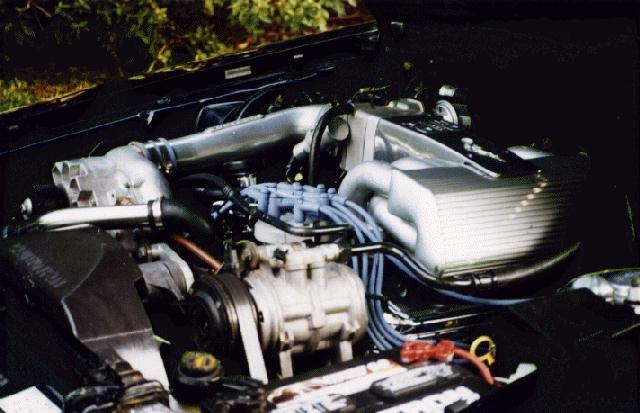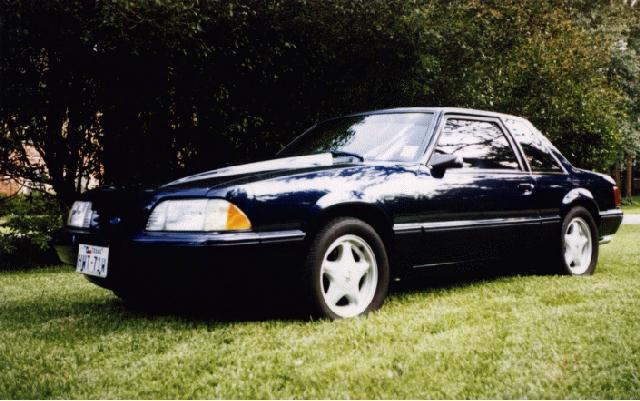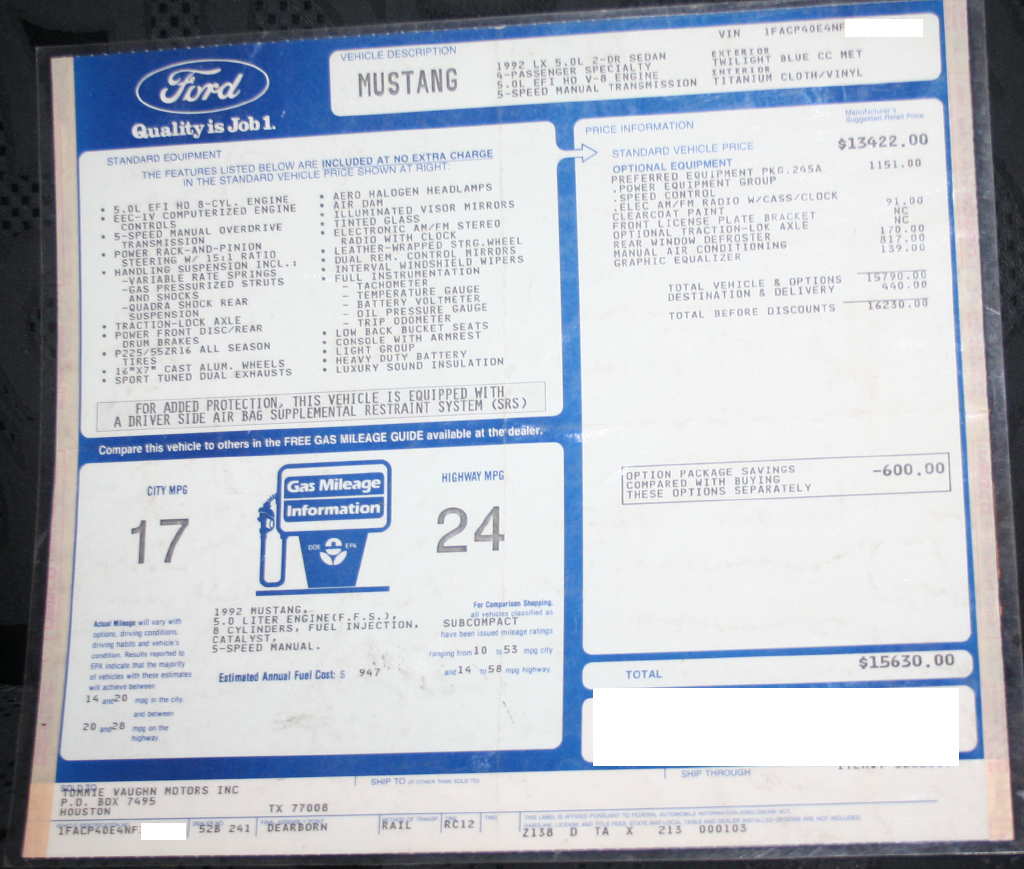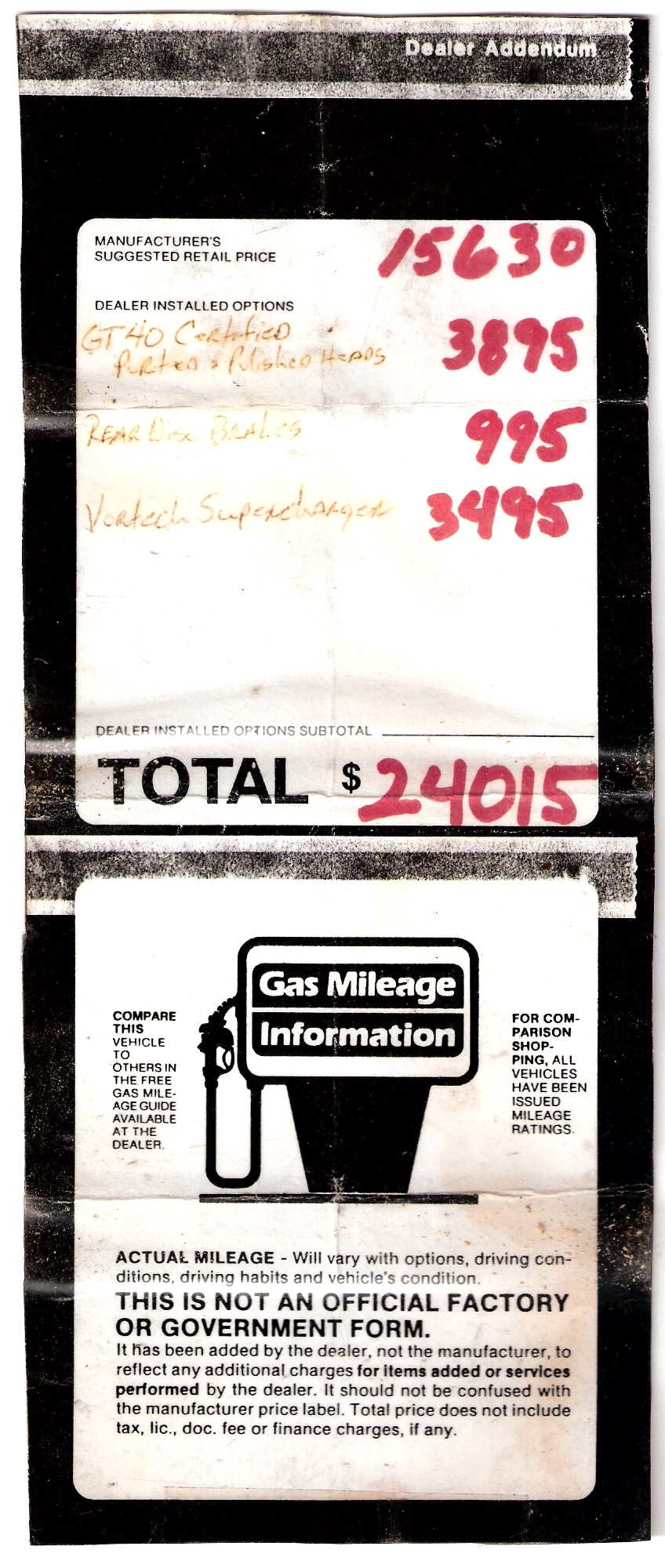 Well after 20 years, 10 of those sitting collecting dust and stuff, it was time to go through every thing. Heres a thread over on CORRAL.NET with details on what I've been up to.
Heres some other pics and stuff.
Only LITTLE boys wear bow ties!!!!!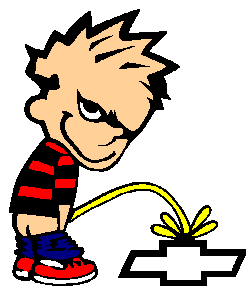 ©
February 4, 2014