| | | |
| --- | --- | --- |
| | | |
These things have UNGODLY amounts of POWER!!!
If your here, you appear and must know little bit about the Rockford Fosgate RF2000, Hafler JF2000 and or Sound values 32B Power Amplifier, thus explaining how you arrived here, I have not been able to find any information on these amps, everything here is from the manual, the schematic and a few magazine articles and my own knowledge about these amplifiers.
Back in 1987 Rockford Corp merged or acquired Hafler, which made home amplifiers. Thus the RF2000/PRF2000 amplifier and RF200 pre amp were conceived or rebranded, and manufactured. I picked up my first RF2000 a PRO model (PRF2000) at a stereo sale here in Houston at the George R. Brown convention center, it was one of the cheesy flea market type of sales, back in 91 or 92 for around $400 I picked up my second RF2000 by posting a wanted add on rockfordfosgate.com wanted forums. My third RF2000, I picked up from craigslist. And the was 4th and 5th from 2 different ebay auctions and I have no idea what I am going to use them for,, maybe I will do a 7.1 system instead of a 5.1 or I could use one amp per channel (front right, front left, center, rear right, rear left) my sub has a amp built in. These amps don't have much inside, and from talking to a buddy of mine that used to do repair for rockford he says these amps are very close to the Power 1000 in the car market, there are 2 big ass caps for 80000 micro farads of storage, and a donut transformer in the bottom and a power distribution board down on the bottom then the audio board up top. The audio connections inside between the board and speaker terminals are the same that are used in the Power 300, 650, 1000 car amplifiers, the fan uses the same molex as the Power 650 4.5" fan. Slight differences in the face plate silk screening, no idea why. This amp will handle 8, 4 and 2 ohm loads and the manual states the power output for a 8 ohm load is 200 watts per channel, 600 watts when bridged into a single 8 ohm load, this is a very very conservative rating. At the bottom of this page is some pages I scanned from Stereo Review June 1989, their test conclude, 450 watts per channel at 8ohms, 720 watts per channel at 4 ohms, and are you sitting down?
1150 watts per channel at 2 ohms!!!
Here is my first three.
Just over 3000 watts total!!!
A little dusty, my house is always dusty.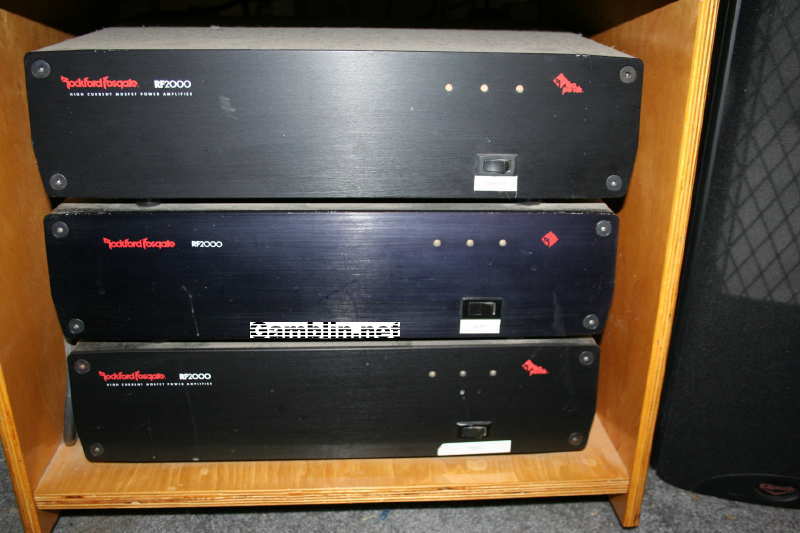 Then there was four. Forth came from ebay.
Just over 4000 watts total!!!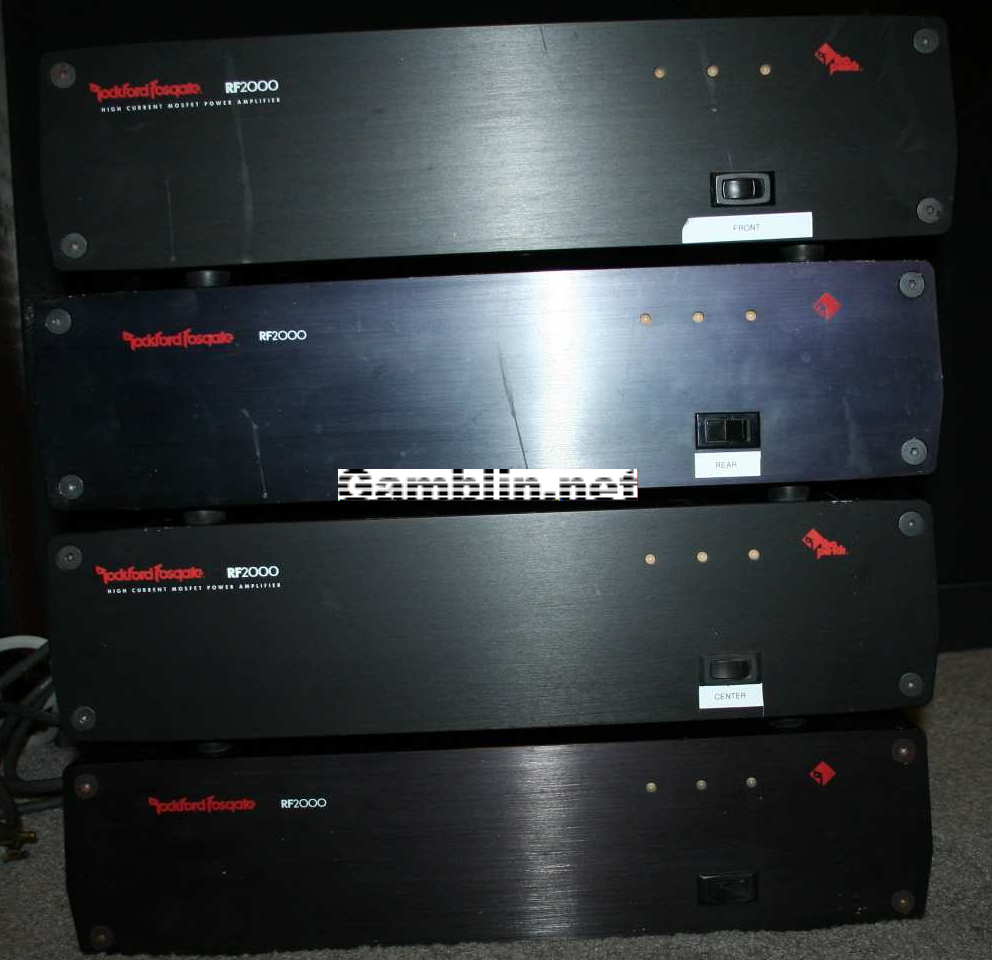 And then five. From ebay as well.
Just over 5000 watts total!!!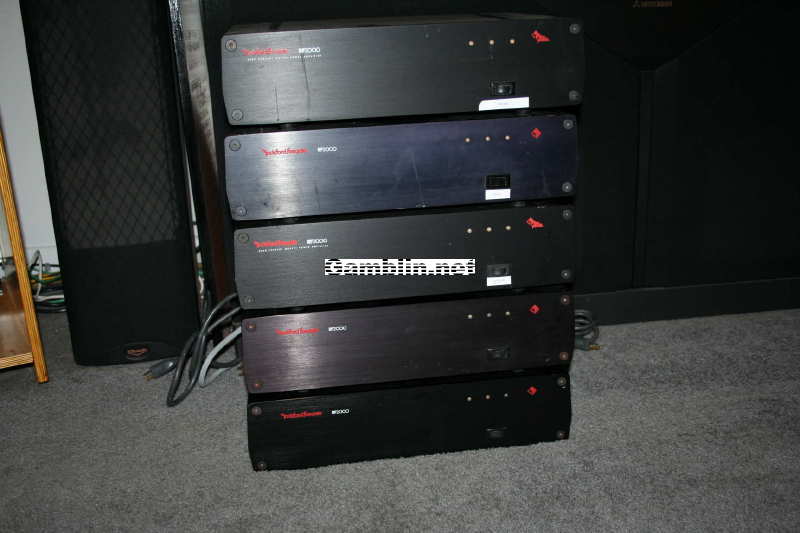 And now I have 6 of RF2000, well I HAD 6 now only 4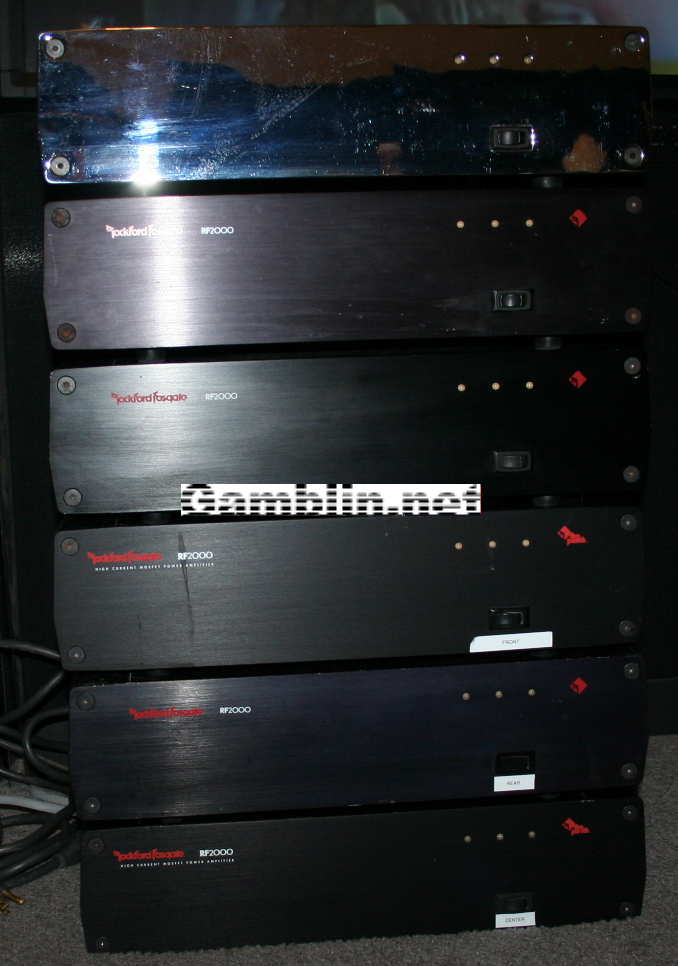 A bit blury but you get the just of it.
From the back you can see the top one is the PRF2000, the only other differences are the additional 3 pin (XLR) inputs and the 1/4" input,
other than that, they are the same internally. The front face on the PRO's had handles and was rack moutnable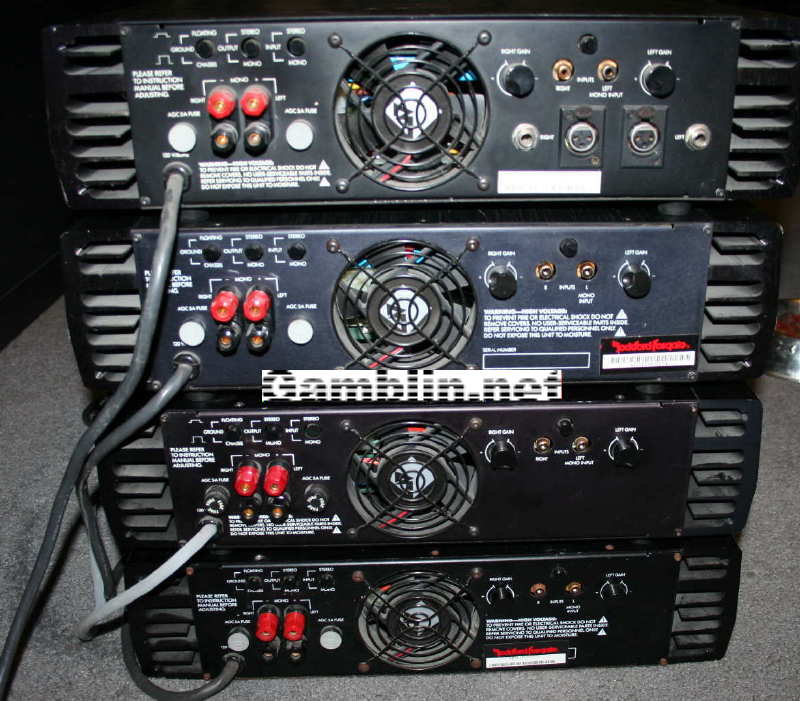 Below is the front plate from the PRF2000 (P for PRO), it had handles for rack mounting but I replaced the front face with a new one with no handles.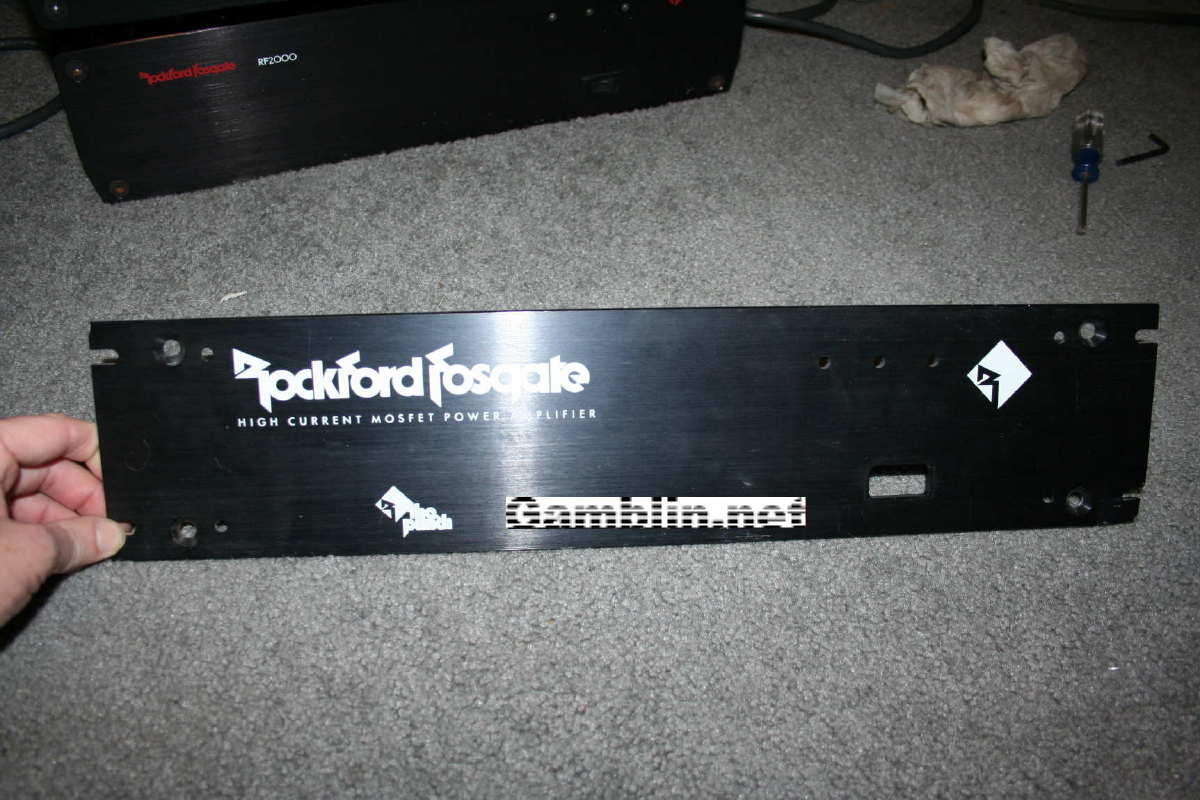 Heres a closeup shot of the PRF2000 back, it has balanced XLR inputs and the 1/4" input, the non-pros do not have this input.
Here's some shots of the internals. Some of the amps have blue air damn, and some have red. The boards are all laid out the same, I don't see any revision markings.
Heres the top of the audio board, 16 FETS per channel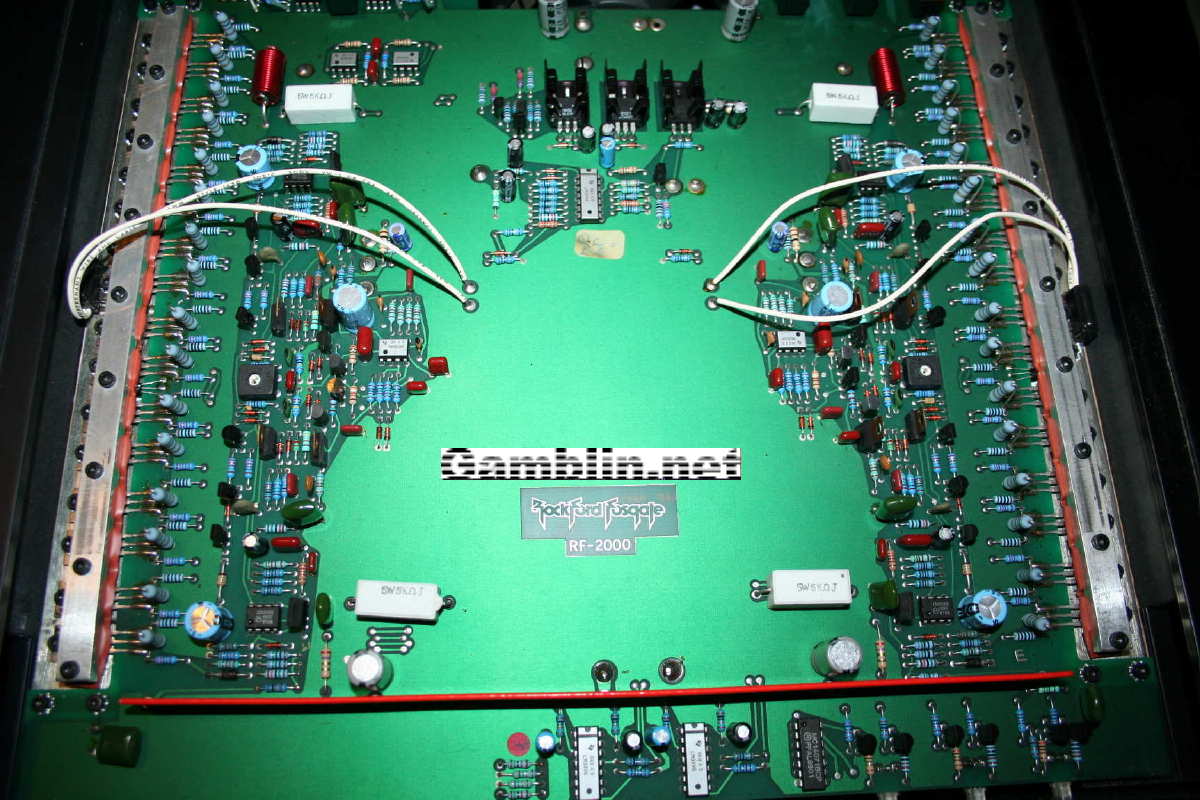 Here's the bottom of the audio board, with the power board removed.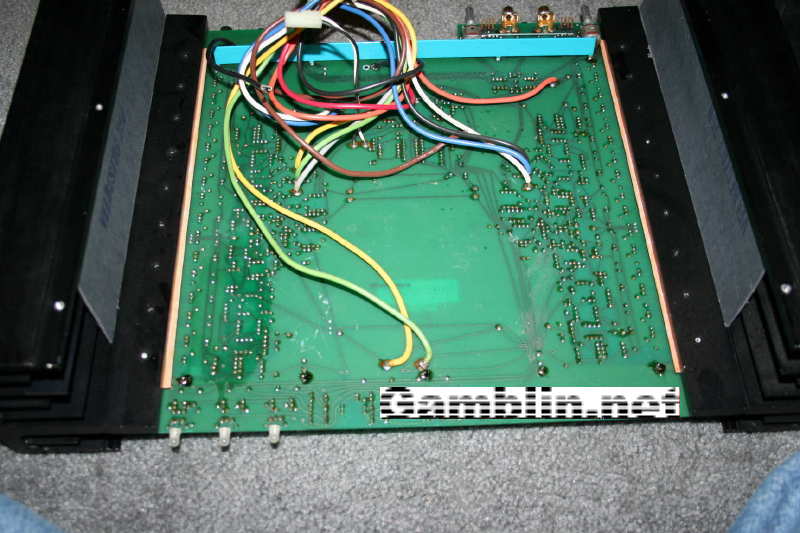 Here's the power board, each cap is 42,000 micro farads. The donut transformer is good for 1000 VA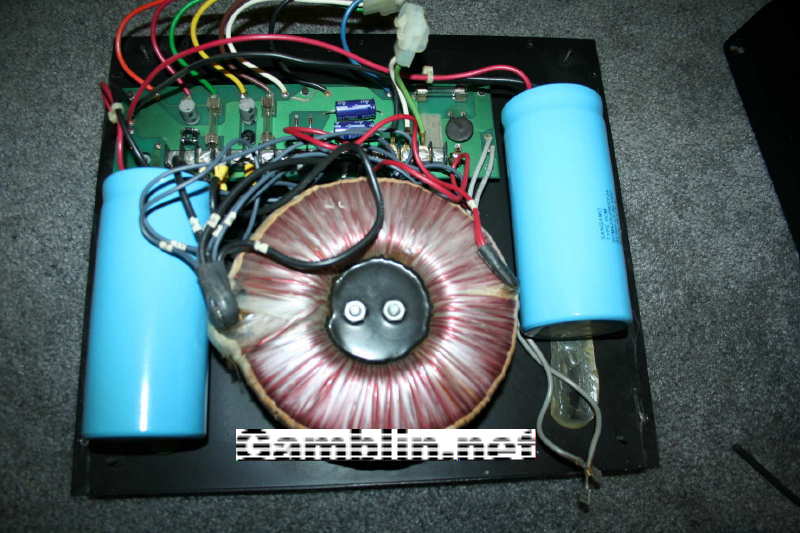 Close up of the power board bus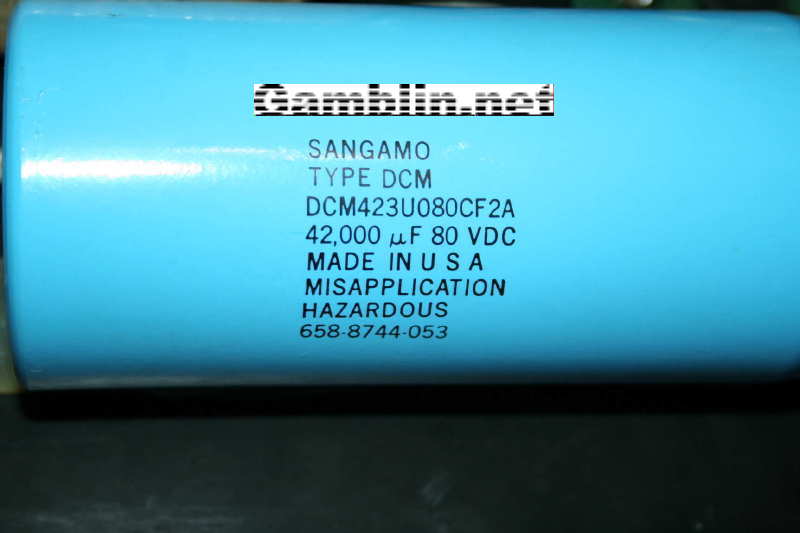 Here's the output and fan board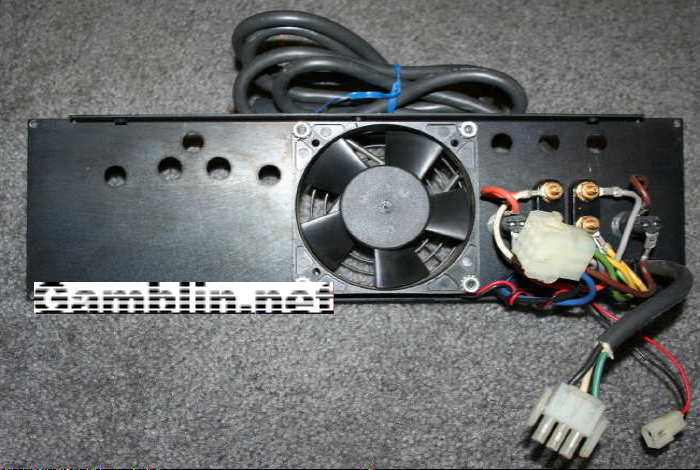 Below is the amp I picked up from a Rockford Employee via the RF discussion forums, the story is he won it at a Rockford company picnic as a door prize.
That's one hell of a door prize!!!

B stock??? it sounds fine!!! Board 14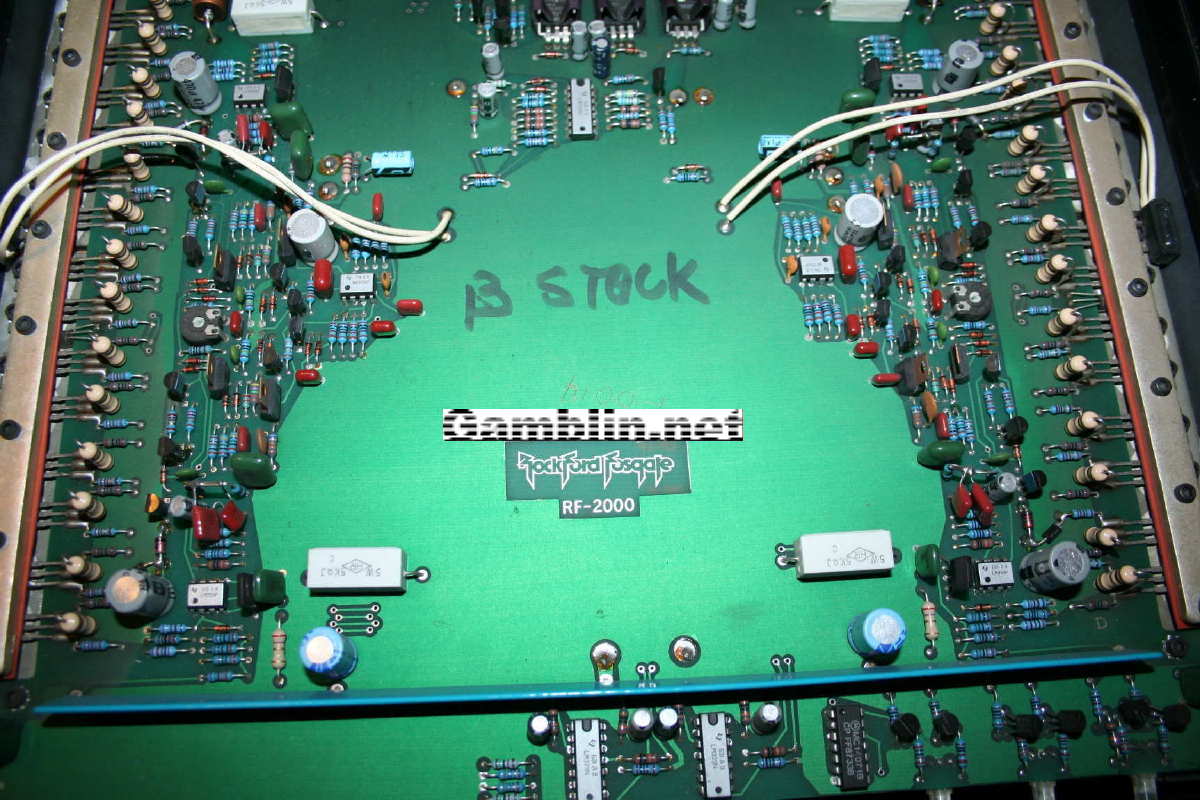 This is the board in the PRF model, board 30, P for PRO?? None of the others have this P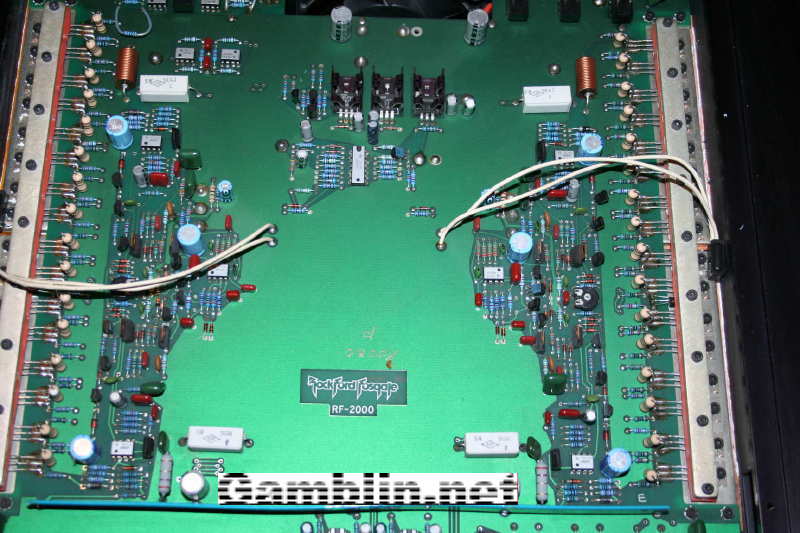 Close up of the PRF2000 pcb serial number.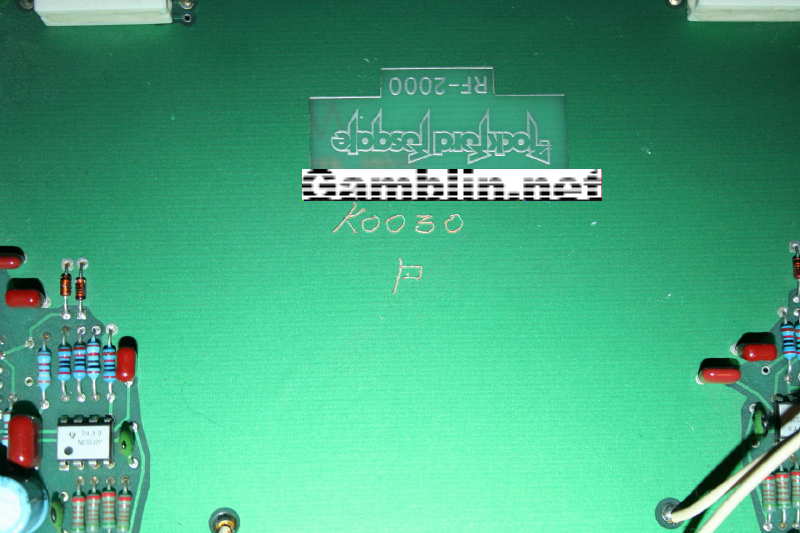 Here's another D0047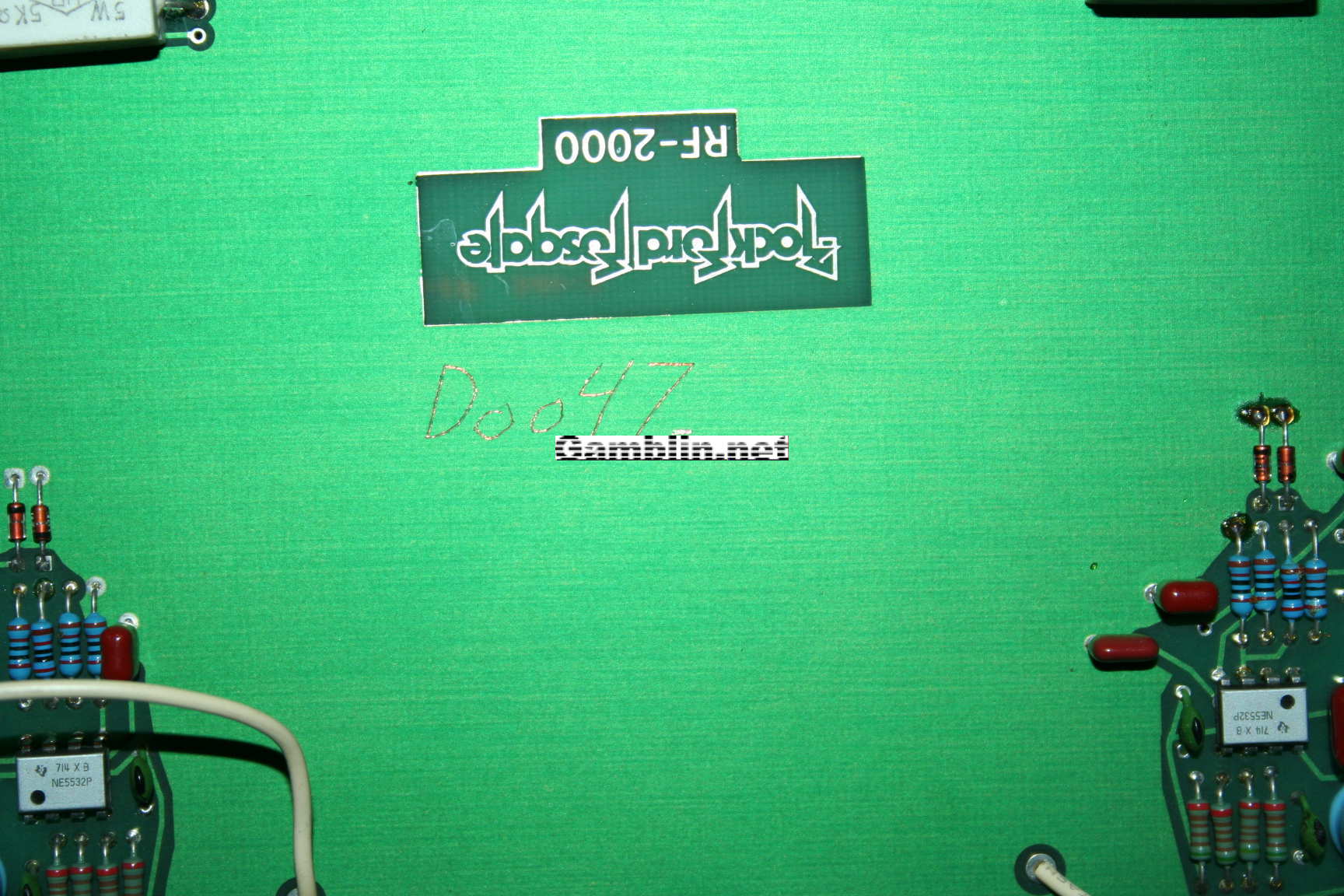 And another F0045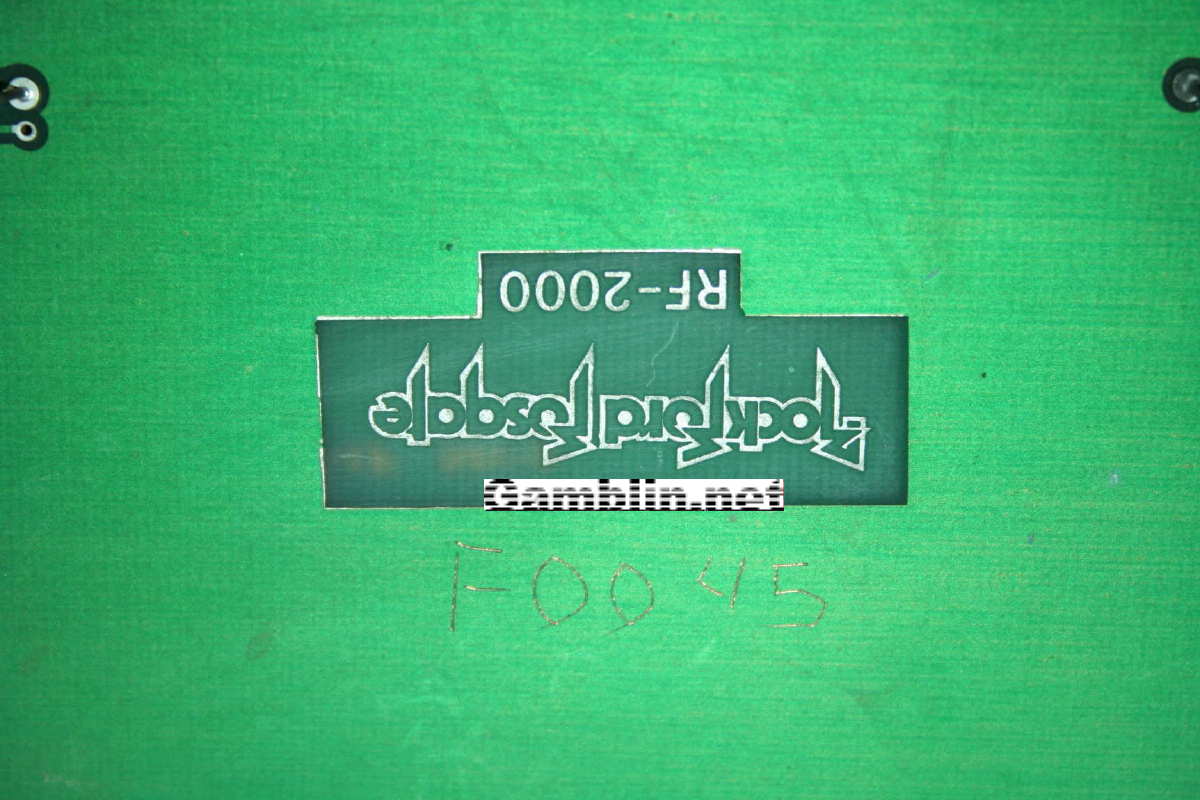 And another F0014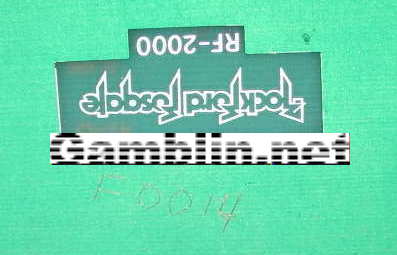 This amp was defective when i picked it up, the bridge rectifiers were bad on the power supply board, it was a good deal so I couldnt pass it up and has a chrome face plate.
SWEET!!!
I had 6 of these , I don't have 6 any longer, I'm down to 4, one for the front left and right, one for the rear left and right, and half of one for the center, the 4th is just a spare for now. and I am a Rockford Fanatic.

NOTE, power is NOT the most important thing, but more power allows me to turn up the volume loud as hell before distortion begins.
I found this listing on Ebay, no I did not buy it, it is a Hafler JF2000, Signature series, the JF2000's are RF2000's just with a Hafler name on the face plate. Some may say the Haflers came first, others say the Rockford did, it doesnt matter they both rock!!!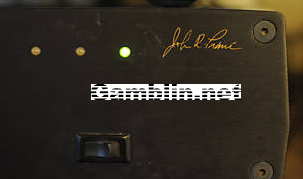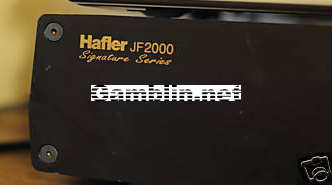 Stereo Review June 1989, and yes these are scans from my magazine.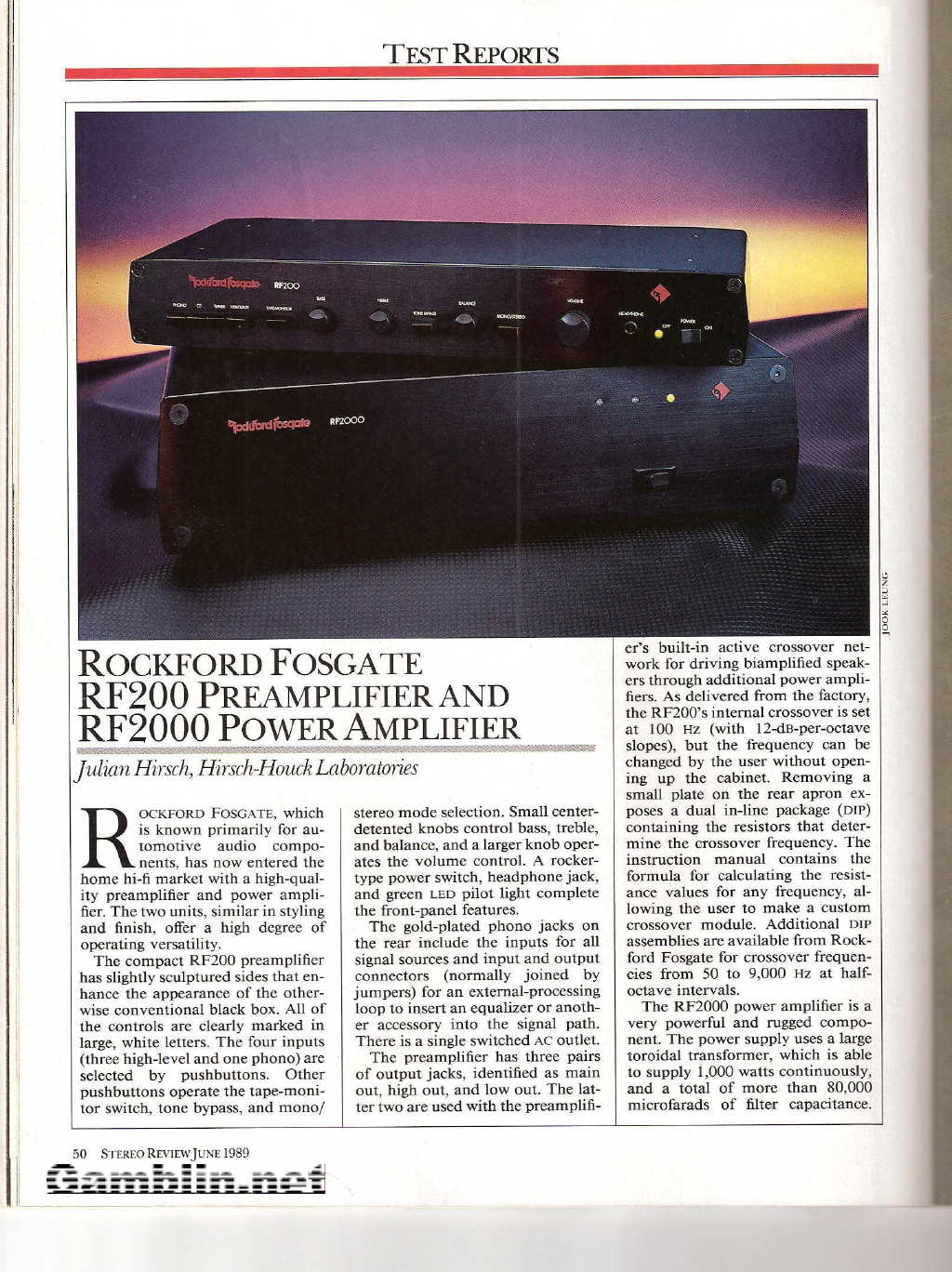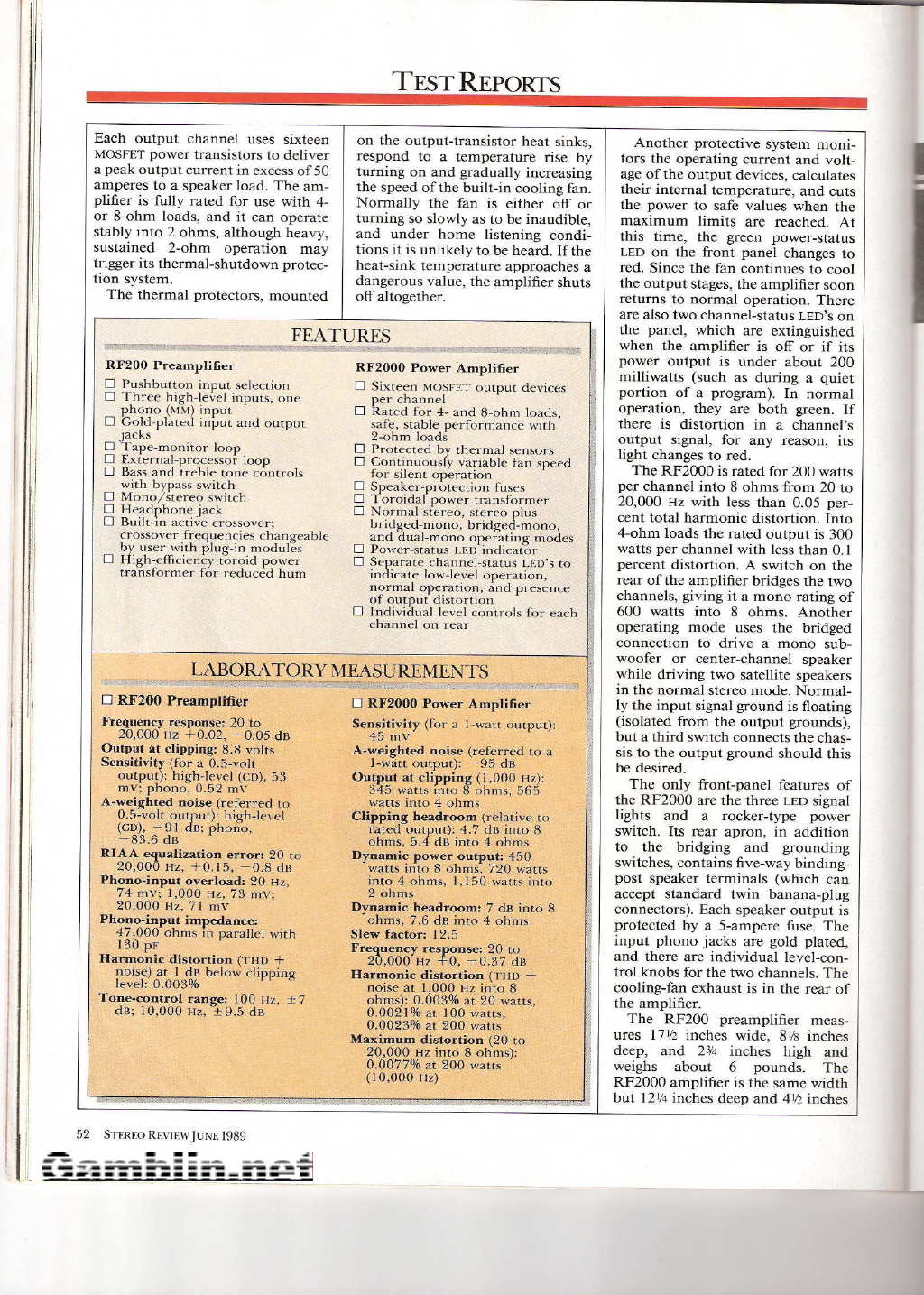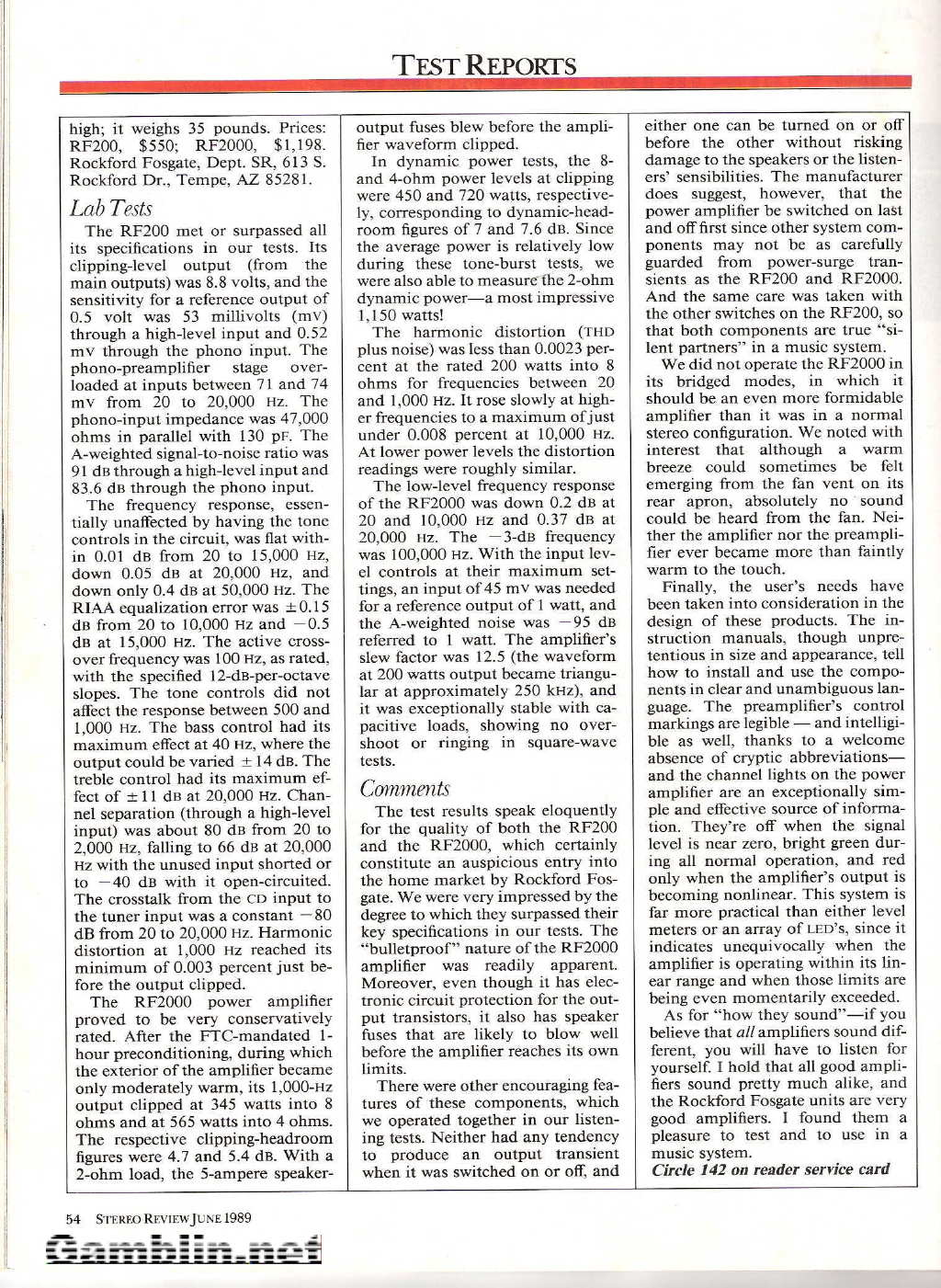 Who in their right mind is going to stay with 5 amp speaker fuses??? I used to but I kept blowign them, Im using 25 amp fuses, I haven't blown a speaker yet and I do watch movies very loud, my Klipsch speakers are only rated at 200 watts rms, but they take the punishment!!!
Rockford Propaganda from freind on Old School Stereo FB Group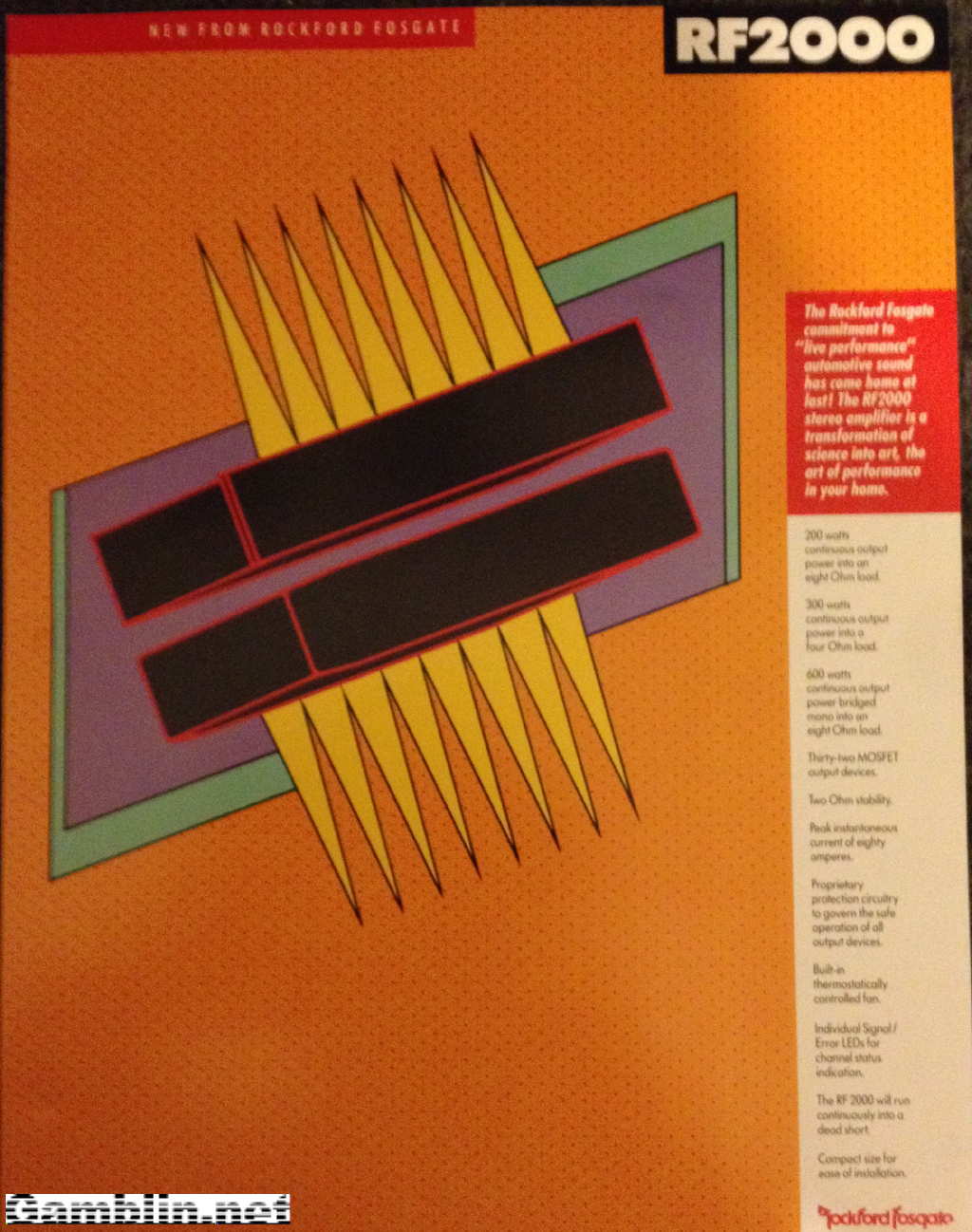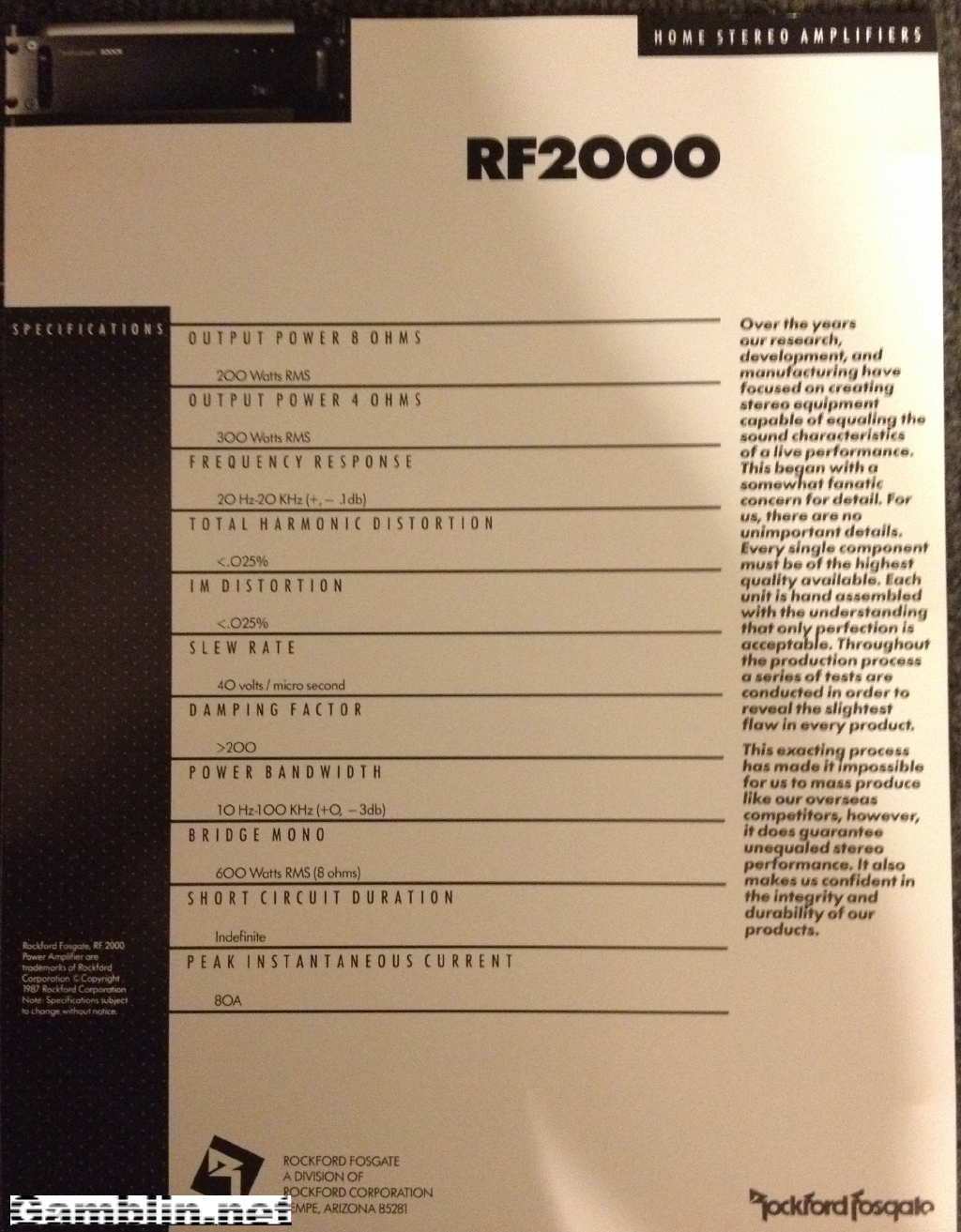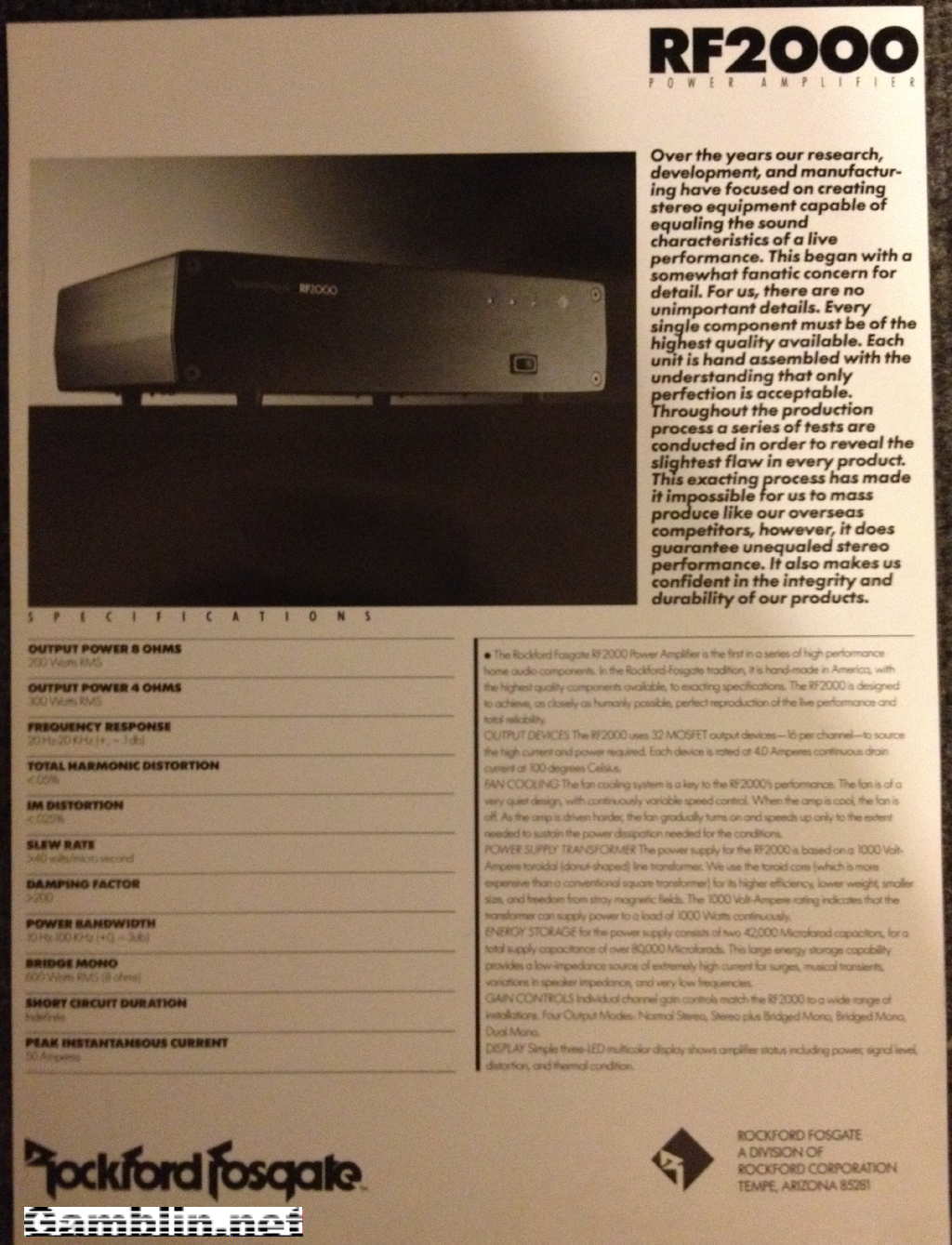 Here is the RF2000 manual. Here is the schematic
Kyle R from Facebook has a few of these as well. Check it out.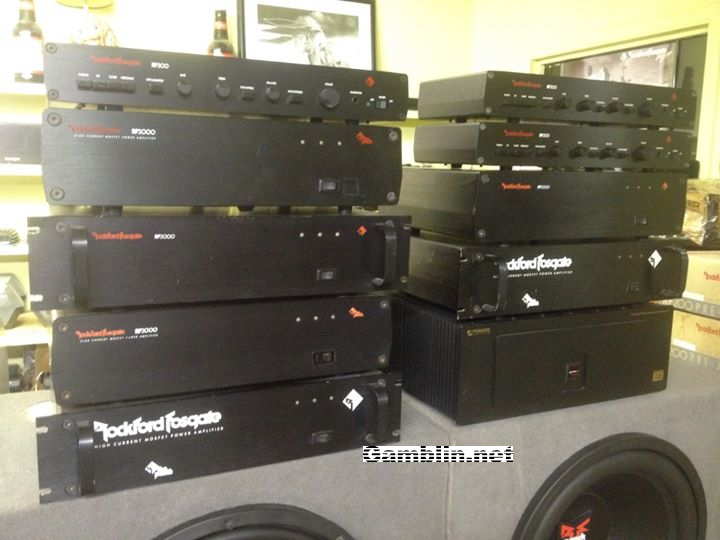 Another pic from the above owner, you know who you are, Kyle R!!!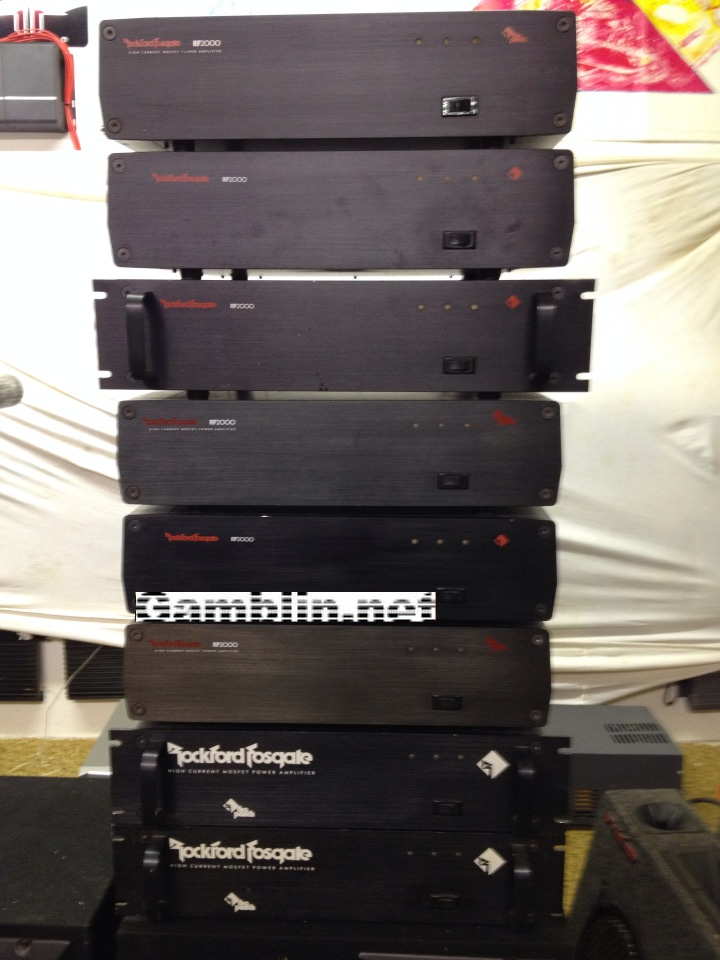 MOSFET 32
Not too long ago someone contacted me about a company named Sound Values (out of business) who purchased all the extra JF/RF2000 parts and assembled what became MOSFET 32 amps, more information can be found here. Which is a saved page from Home Theater HiFi

If you have any other info or know of any other web sites please
Here's my old school Power 650 car amps
Here's my old school Power 1000 car amps
November 20, 2014